Military Pilot Dies After Fighter Jet Crashes Near Marine Base
A U.S. Marine Corps pilot died after an F/A-18 fighter jet crashed Thursday night near San Diego's Marine Corps Air Station Miramar.
The crash was reported just before midnight east of Interstate 15 and a search-and-rescue mission concluded Friday morning.
"Search and rescue recovered the U.S. Marine Corps pilot who has been confirmed deceased at the site," officials said in a statement.
"The pilot was the only person aboard the aircraft. With a heavy heart, our condolences go to the Marine's family during this time."
We offer our deepest condolences to the family and friends of the Marine Aviator who died during an F/A-18D Hornet crash in the vicinity of MCAS Miramar, Aug. 24.

All queries may be directed to 2ndmaw.commstrat@usmc.mil. pic.twitter.com/YvTiaxu3rp

— U.S. Marines (@USMC) August 25, 2023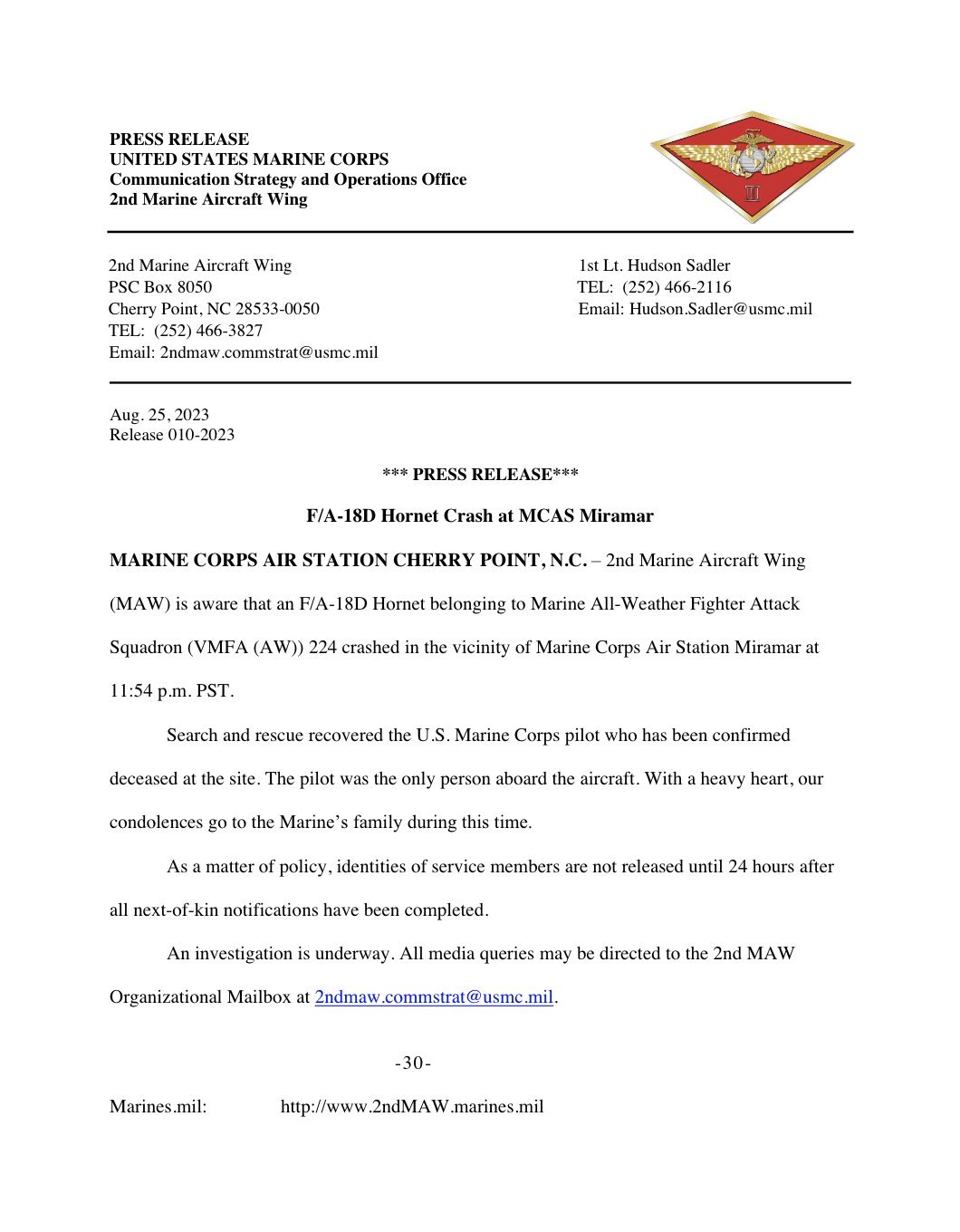 WATCH:
BREAKING UPDATE: @CBS8 is getting reports that an F-18 military jet has crashed near MCAS Miramar in a remote area of the base.
Condition of pilot onboard is unknown, a helicopter is looking for them.
We have @Danamariemctv at the base .. live reports now on @CBS8 Mornings. pic.twitter.com/19oQ1hYGTV

— Eric Kahnert (@EricNews8) August 25, 2023
NBC 7 reports:
Following military protocol, the identity of the pilot will not be released until 24 hours after the next-of-kin are notified.

It's unknown at this time what may have caused the crash. The aircraft was part of the Marine All-Weather Fighter Attack Squadron [VMFA (AW)] 224, officials said Friday.

There are no indications of damage to property on the ground.

San Diego police initially responding to the incident but officials at MCAS Miramar took over the investigation.
The "F/A-18 Hornet became the nation's first all-weather fighter and attack aircraft and was designed for traditional strike applications such as interdiction and close air support without compromising its fighter capabilities," according to the Navy.
Fox News added:
"The F/A-18 A-D is employed in Marine Corps fighter attack squadrons, U.S. Navy and Marine Corps Reserve squadrons, the Navy Flight Demonstration Team (Blue Angles), and various other fleet support roles," it also says.

It also described the aircraft as the "workhorse of Marine Corps tactical aviation and supports operational deployments around the globe.

"It will serve as the Marine Corps' primary bridging platform to the F-35 Joint Strike Fighter until its planned sundown in 2030," the Navy also said.
In related news, reports broke earlier this week of a young Army pilot suffering cardiac arrest while operating a training flight.
Young Army Pilot Reportedly Suffers Cardiac Arrest While Operating Training Flight