Donald Trump Releases Cognitive Exam Evaluation From Doctor On Joe Biden's Birthday
Donald Trump on Monday published a clean bill of health from his personal doctor to Truth Social.
"I have been President Donald J. Trump's personal physician since 2021. During this time, I have conducted several comprehensive examinations, the most recent being September 13, 2023, and have supervised specialist consultations along with ancillary testing for screening and preventative health maintenance," a letter from Dr. Bruce Aronwald read.
"I am pleased to report that President Trump's overall health is excellent. His physical exams were well within the normal range and his cognitive exams were exceptional. In addition, his most recent extensive laboratory analysis remains well within normal limits and was even more favorable than prior testing in some of the most significant parameters, most likely secondary to weight reduction," he wrote.
"Cardiovascular studies are all normal and cancer screening tests are all negative. President Trump has reduced his weight through an improved diet and continued daily physical activity, while maintaining a rigorous schedule. It is my opinion that President Trump is currently in excellent health, and with his continued interest in preventative health monitoring and maintenance, he will continue to enjoy a healthy active lifestyle for years to come," he added.
President Trump presented the letter from Dr. Aronwold without comment.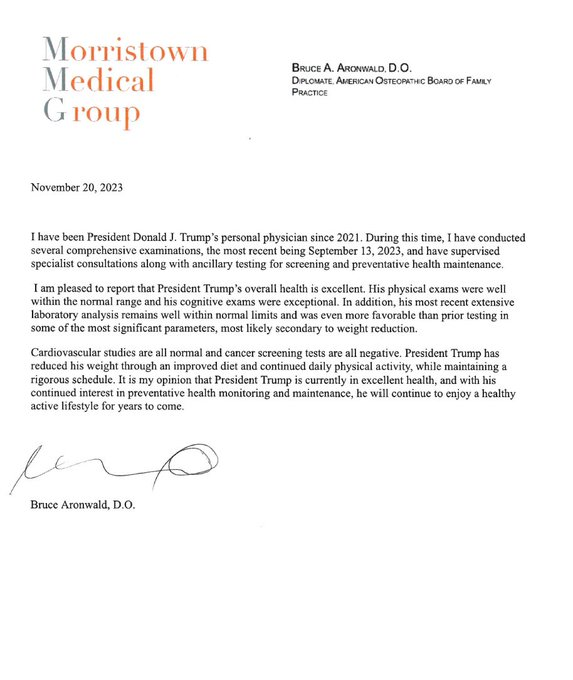 Trump's "excellent" physical exams contrast Joe Biden, who continuously makes cognitive and physical gaffes.
Just the News reports:
Aronwald's medical assessment of Trump comes as President Joe Biden, his likely general election rival in 2024, faces mounting scrutiny of his physical and mental health in light of his age and habit of misspeaking. The president turned 81 on Monday, the same day as the annual presidential turkey pardon. During that event, Biden made another characteristic gaffe in which he appeared to conflate pop stars Britney Spears and Taylor Swift.
In addition, Trump released the health evaluation results from his doctor on Joe Biden's 81st birthday.
"Lmao I love how savage Trump is. He released his medical evaluation on Joe Biden's 81st birthday. I aspire to be on Trump's level of SAVAGE. Nobody does it better. I want to see Biden's medical records!!!!! Let's see them," Laura Loomer commented.
Lmao I love how savage Trump is.

He released his medical evaluation on @JoeBiden's 81st birthday.

I aspire to be on Trump's level of SAVAGE.

Nobody does it better.

I want to see Biden's medical records!!!!!

Let's see them @JoeBiden! #Trump2024

— Laura Loomer (@LauraLoomer) November 20, 2023
From CNN:
President Joe Biden is marking his 81st birthday milestone Monday with a low-key family celebration as he braces for a strenuous election year ahead.

But even as the first family keeps the celebrations muted and out-of-sight, the moment nevertheless highlights his greatest campaign liability – his advanced age and, along with it, perceptions among voters that his physical and mental fitness have declined.

On Monday morning, as he presided over the annual Thanksgiving turkey pardon, Biden seemingly confused pop stars Britney Spears and Taylor Swift.

Being the national Thanksgiving turkey, he said, is "harder than getting a ticket to the Renaissance tour or Britney's tour she on -– it's kind of warm in Brazil right now," appearing to confuse Spears with Swift, who is currently on the South America leg of her Eras tour.

He also offered multiple jokes about his age.

"I just want you to know it's difficult turning 60 – difficult," he told the turkey pardon audience, laughing. And as he noted the 76th anniversary of the event, he joked that he "wasn't there" at the first edition.

Officials at the White House and the campaign privately acknowledge age is a vulnerability, and they work both to eliminate potential gaffes and project vigor. Biden was prescribed custom orthotics to help with his feet this year, after his annual physical determined that he experiences a "stiff gait." In recent months, when Biden flies on Air Force One, he has started using a smaller, shorter set of stairs more frequently to board and deplane.