JUST IN: Truth Social Files Unprecedented Defamation Lawsuit Against 20 Major Media Outlets
Truth Social on Monday announced it filed an "unprecedented" defamation lawsuit against 20 major media outlets.
"Today Truth Social filed a defamation lawsuit that is likely unprecedented in history, incorporating twenty publications—and even more may be added. All of them published the same false information about Truth Social and refused to fully retract their stories. To the Fake News outlets that think themselves above accountability: we'll see you in court," Truth Social posted on its platform Monday evening.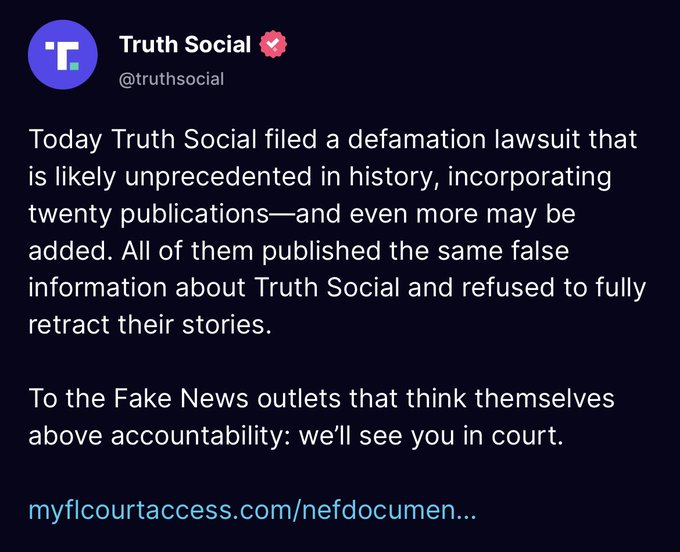 "This case is about an unprecedented and seemingly coordinated media campaign, by no less than 20 major media outlets, to attack Trump Media & Technology Group ("TMTG") and its social media platform, Truth Social, by falsely reporting that TMTG had lost $73 million," the lawsuit read.
"This number was an utter fabrication. Each defendant, in apparent coordination, reported the exact same false number within approximately 24 hours of one another, each citing to a public Securities and Exchange Commission ("SEC") filing, in which the mystery $73 million loss appears nowhere," it continued.
"This was a coordinated effort to damage TMTG's reputation, degrade the firm's financial standing, freeze its access to capital, and torpedo the anticipated merger between Digital World Acquisition Corporation ("DWAC") and TMTG," it continued.
Companies included in the lawsuit include: Miami Herald, Reuters, Newsweek, MSNBC, Axios, The Hill, Forbes, The Daily Beast, Mediate, Salon, NY Daily News, CNBC and several others.
BREAKING: Donald Trump's platform Truth Social files defamation lawsuit against 20 media companies. pic.twitter.com/Mbx2r9rNLe

— Benny Johnson (@bennyjohnson) November 21, 2023
BREAKING REPORT: Truth Social FILES MASSIVE DEFAMATION LAWSUIT targeting twenty media companies.

More companies expected to be added to the suit in the coming days.

Companies included in the suit: Miami Herald, Reuters, Newsweek, MSNBC, Axios, The Hill, Forbes, The Daily… pic.twitter.com/tEZJEH8fmU

— Chuck Callesto (@ChuckCallesto) November 21, 2023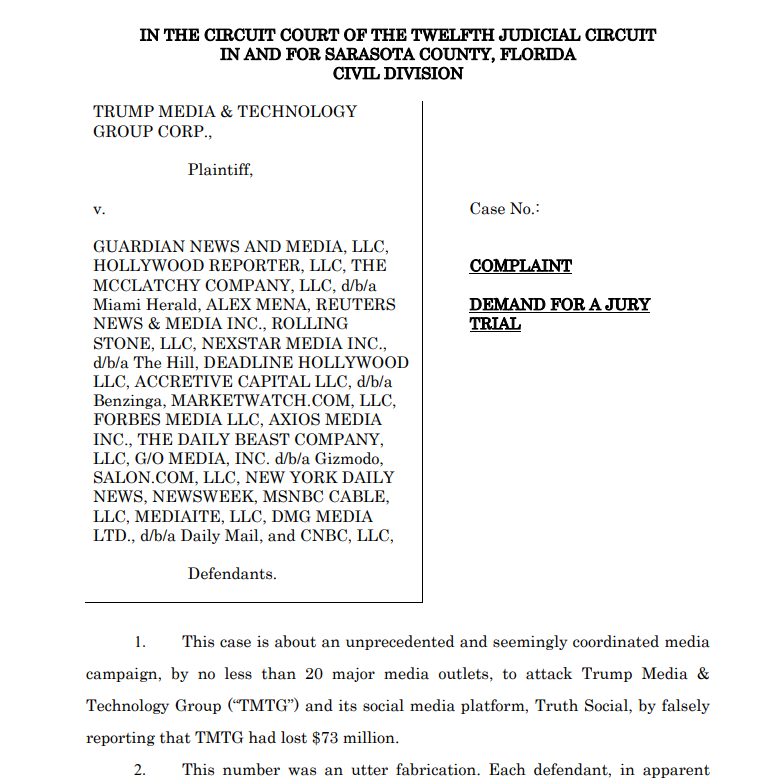 "Because this filing involves TMTG and President Trump's Truth Social, however, these defendants ignored or downplayed TMTG's public statements regarding a positive development. Instead, they deliberately or recklessly published false financial information to advance a preferred and coordinated narrative harmful to TMTG," the lawsuit read.
"On November 14, 2023, TMTG contacted each of these media defendants, notifying them in writing of their error, specifying that their statements about a supposed $73 million loss were false and defamatory, and demanding a retraction and apology. To date, while some defendants have issued little-noticed 'corrections' or 'updates,' none have retracted the defamatory articles, publicly apologized, or taken any other steps to ameliorate the continuing damage," the lawsuit continued.
"TMTG intends to hold these reckless and malicious media outlets to account for their false reporting and for their seemingly coordinated effort to destroy TMTG and Truth Social," it continued.
The lawsuit seeks $1.5 billion in damages.
BREAKING: Donald Trump's Truth Social just filed a historic defamation lawsuit against 20 media companies including the Daily Mail, Daily Beat, Forbes, etc. The lawsuit is asking for $1.5 BILLION in damages caused by their lies

TODAY COULD NOT GET ANY BETTER! pic.twitter.com/uYTZ6uhKJI

— George (@BehizyTweets) November 21, 2023
Read the full lawsuit HERE.